Audio clip: Adobe Flash Player (version 9 or above) is required to play this audio clip. Download the latest version here. You also need to have JavaScript enabled in your browser.
CIARA'S RTE RADIO ONE PLAYLISTED SINGLE 'OLD BING'S DREAM' AVAILABLE on iTUNES NOW
Shadow Road Shining
'An alt country classic. Exquisitely beautiful . . . recommended from the highest heights.' (four stars) Hot Press
'Americana [with] an unmistakeably Celtic feel to its poetic lyrics and confident vocals.' UNCUT
Take some roots Americana, add a touch of country soul and blend with Irish flavouring. Dublin singer-songwriter Ciara Sidine draws on her family literary tradition to deliver a unique sound in her lyrical debut album Shadow Road Shining.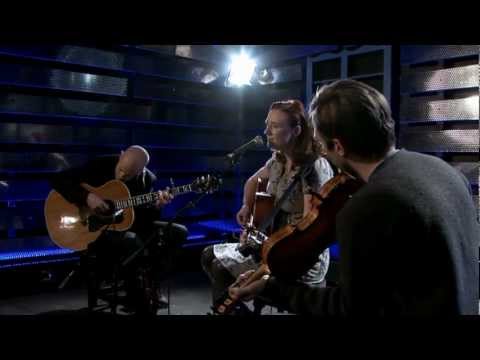 'A remarkably assured piece of work' Daily Telegraph
'Perhaps closest of all, in style, to Maria McKee, Ciara's angelic tones are a wonder to behold. As good as anything you'll hear emerging from the Americana/roots field in 2011, and Ciara Sidine is one of the most exciting new vocalists I've heard in quite some time.' Getreadytorock.com
'Glimmering traces of Gillian Welch and Alison Krauss . . . with a distinct Celtic sensibility.' (four stars) Metro Eireann
'The kind of voice that makes you want to shout – in a good way.' R2
Ciara recently made her debut TV appearance on Other Voices, and her single 'Take Me Down' has been receiving much airplay on Radio 1, as well as numerous BBC shows in the UK and Northern Ireland, and on Dutch radio.
'[An] astonishingly assured debut album of self-penned songs' Flyin Shoes review
'Utterly captivating . . .  Sidine's vocals, both soulful and angelic, are the icing on the cake.' Irish World
Shadow Road Shining embraces a range of emotions, casting sunlight and shadows, and showcasing a writing talent that weaves words into musical magic. Highlights include a poignant duet with acclaimed singer/songwriter Jack L on the unforgettable Constellations High.
'Move over Mary Black, make a space Maura O'Connell, say hello Sinead O'Connor, a new Irish star is born.' GCN
Ciara's is also known in the publishing world as one of Ireland's foremost literary editors. Author Joseph O'Connor, with whom she performed in the Abbey Theatre in his show The Music of Ghost Light, says of her music, 'Ciara Sidine has one of those voices that fills the heart with light and hope – a rare and precious gift – and the power with which she shares it in the live situation is unforgettable.'
'Deep brooding Americana that draws on both the folk and country side of the genre . . . with a Celtic heart beating away in the body.' Fatea Magazine
With contributions from some of Ireland's finest musicians, including Steve Wickham (The Waterboys, Rem, Bob Dylan), Conor Brady (Toots and the Maytals, Terence Trent Darby and George Martin), Paul Moore (Van Morrison), Dave Hingerty (The Frames/Swell Season) and Justin Carroll (Van Morrison), Shadow Road Shining introduces an intimate, melodic and above all haunting voice that's at once familiar and original.
'One of the most talented singer/songwriters to emerge in Ireland in decades'  Hot Press